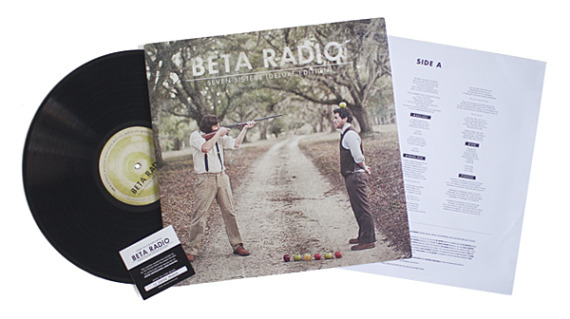 Hello friends, I hope this post finds everyone happy, warm and well! We wanted to write and let you in on some exciting news just in time for the holidays. We're pleased to let you know that we've just received the long awaited vinyl record pressings of Seven Sisters (Deluxe Edition)!
Seven Sisters (Deluxe Edition), is a limited, 500 copy run of our debut album Seven Sisters - on vinyl! Its something for all you audiophiles and analog lovers out there, and is now available to be ordered and shipped right to you! The reason why this record is a "Deluxe Edition," is because in addition to the original eleven songs from Seven Sisters, it includes two unreleased tracks recorded after the original "Sisters" recording sessions. These new jams were written for the first two episodes of the CW Network's television series, Hart Of Dixie. All the songs have been remastered, and each record comes with reworked album art specifically for the vinyl release, as well as lyric sheets, liner notes, and a full album download code, so you can listen to these songs even when you're not near your turntable!
And if all this isn't enough, for the next week all orders to anywhere in the continental United States will be shipped free! Order on or before December 15th, and the shipping is on us! (Again continental United States only - *free shipping will be reflected at item checkout).
CLICK HERE TO PURCHASE SEVEN SISTERS (DELUXE EDITION)!
We are incredibly happy with how the record looks and sounds, and are excited to get you your copy of it. We've already accepted a number of pre-orders since we announced it earlier this fall, and many have already been claimed. Only 500 copies have been pressed, and we expect them to go quick, so get one for yourself - or give the gift of analog this year to your sweetheart/mom/boss/best friend/gardener/puppy/etc.! Buy your copy here!
Not a fan of vinyl? Is analog to antiquated? Then get an immediate digital download of Seven Sisters (Deluxe Edition) on iTunes instead!